High in the mountains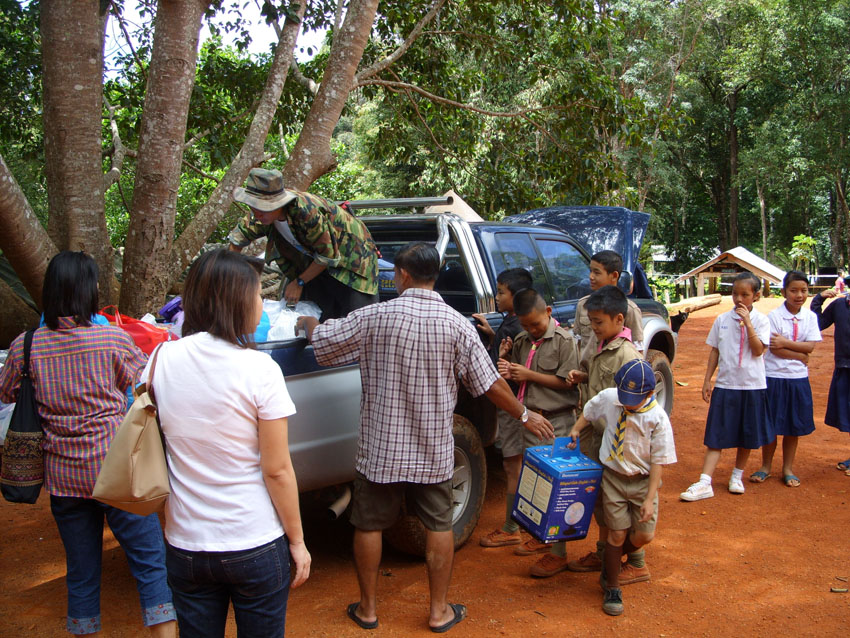 To get to Pha Pae school requires a dangerous drive of over an hour up a steep mountainous rough track. We need a 4 wheel drive vehicle to get here – and during rainy season the road is frequently closed. The school's dedicated head teacher travels this dangerous road on a daily basis on his motorbike. He has been injured in the past when his bike has left the road and he has been found lying on the mountainside a long time later, but today he still smiles and gets on with the task in hand.
When at last we reach the school it looks like a little piece of paradise, a beautiful setting invisible to the outside world. Life is simple here - there are no mains utility supplies. The electricity is generated by solar panels which charge batteries which are re-charged every day. But behind the beauty lies a problem...
Mountain people do not have Thai nationality. Even though their families will have arrived in Thailand many many years ago from area such as Burma and Laos originally, these people are not allowed to be Thai naionals. Even the children born in Thailand and have lived their whole lives there do not have Thai citizenship.
So although the school receives some government funding it is not on the same scale as a normal Thai school, and therefore struggles to be adequately resourced.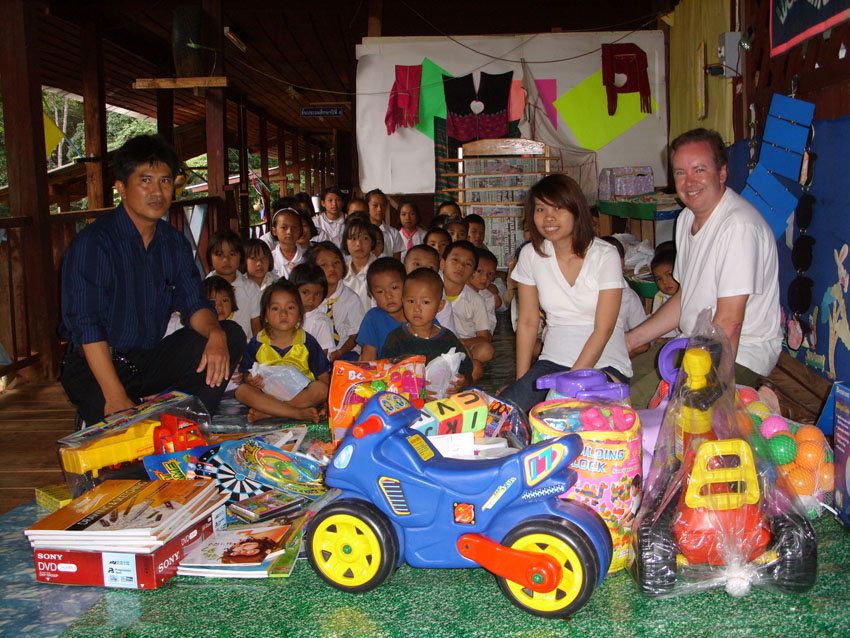 These children really need a good education. Their first language is not Thai, but their own tribal language, so there are basic literacy skills which need extra work so that they can have the same opportunities as other Thai children.
We have been able to supply the school and children with a large variety of educational resources such as a DVD player to show recorded lessons, art and craft supplies, educational toys, books and basic materials such as paper and pencils etc. There is much more we could do for schools like this and others with even less resources.
The children here are incredible - when we arrive they have dressed up for us. Never have we seen such polite, well-behaved children. They manage the whole lunch process themselves, cleaning and tidying when they finish. All without fuss and complaint. The donations are received with warmth and enthusiam and we are left in no doubt they will be put to good use.