How you can help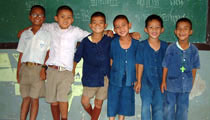 You can help us to help the children of northern Thailand by making a Donation.
Just click the donation button and choose what you want to give.
You can make a One Time payment of an amount of your choosing, or decide to make a regular payment to us.
Whatever you do, your money will go a long way.
Your donation will be made to us via Paypal for your security. You do not need a Paypal account to make a donation – just follow the simple instructions.
Thank you.
Chiang Mai Children's Fund.